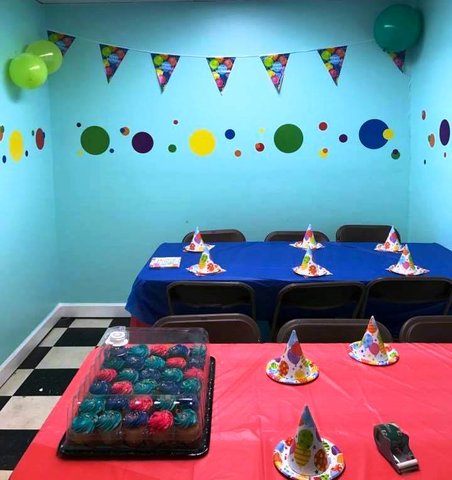 Sorry we do not offer any discounts for the party room.

When you choose Just Jump Alot.llc for your party needs, you and your guests will enjoy approximately 1500 SQFT of private play. You will not have to worry about sharing your party with another family or group of guests. You will enjoy watching your guests have a blast jumping, sliding, conversing and playing. We offer a variety of games and activities for your children. Our Private Party Package is ideal for groups with up to 20 children with additional seating available for parents..

Some of the activities included with your party include:
A Large Bounce House
A Combo Bounce house w/slide
Carnival and Sports Games
Play Room with fun activities
Eating Area
Seating for Guests
All parties are two and a half hours!
1 hours 45 minutes of bounce and play, 30 minutes for the food, cake & presents, 15 minutes to pack up belongings.

Parent(s)/Party Host(s) are responsible for children at all times. We provide the space for 2 and a half hours.

Cake or food is not provided, but you are welcome to bring your own.
We provide a safe, clean and fun environment for your children to play and have a GREAT time.

Please contact us if you have further questions at: 757-450-7920 or email:

[email protected]



Watch our video on youtube! https://youtu.be/VLtPMIvctNY
Scroll Down To Book Online!